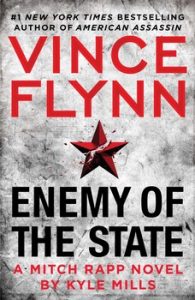 With an explosive plot, incredible action, surprising reappearances from past characters, and Mitch Rapp in top fighting form, Enemy of the State is quite possibly the best book in the series. I've enjoyed seeing new facets of Rapp's personality emerge as his character has continued to evolve under Kyle Mills' guidance. Once again, Mills has outdone himself and raised the bar higher than ever, I can't wait to read his next thriller!
Enemy of the State can stand on its own, but you really don't want to miss reading all of Mitch Rapp's adventures.
"Can you contact Mitch in a way that no one can track?"

"I don't know if Mitch would take my call, and there's no such thing as completely secure communications-particularly if Nassar knows more than he's telling us."

"Then don't. You can't be seen as having any involvement in this." He sank a little deeper into the cushions and let out a long breath. "I can't believe that Mitch would do something like this without authorization, Irene."

She stared directly at him when she answered, "Neither can I."

For the first time in their relationship, the most powerful man in the world wouldn't meet her eye.
Book Details:
Genre: Thriller
Published by: Atria/Emily Bestler Books
Publication Date: September 2017
Number of Pages: 400
ISBN: 9781476783512
Series: Mitch Rapp #16
Source: Advance copy from the publisher
Purchase Links: Beyond Just Books | Kobo | Amazon | Barnes & Noble | Goodreads
Synopsis:
After 9/11, the United States made one of the most secretive and dangerous deals in its history. The evidence against the powerful Saudis who coordinated the attack would be buried. In return, King Faisal would promise to keep the oil flowing and deal with the conspirators in his midst.
When the king's own nephew is discovered funding ISIS, the president suspects that the Saudis never intended to live up to their agreement. He decides that the royalty needs to be sent a message and that Mitch Rapp is just the man to deliver it. The catch? America can't be seen moving against an ally. Rapp will be on his own. Forced to make a decision that will change his life forever, Rapp quits the CIA and assembles a group of independent contractors to help him complete the mission.
They've barely begun unraveling the connections between the Saudi government and ISIS when the brilliant new head of the intelligence directorate discovers their efforts. With Rapp getting too close, he threatens to go public with the details of the post-9/11 agreement between the two countries.
Facing an international incident that could end his political career, the President orders America's intelligence agencies to join the Saudis' effort to hunt the former CIA man down.
Rapp, supported only by a team of mercenaries with dubious allegiances, finds himself at the center of the most elaborate manhunt in history. It's only a matter of time before he's caught or killed. Will it be enough to turn the tables on the Saudis and clear his name?
About the Authors:
#1 New York Times bestselling author Vince Flynn (1966–2013) created one of contemporary fiction's most popular heroes: CIA counterterrorist agent Mitch Rapp, featured in thirteen of Flynn's acclaimed political thrillers. All of his novels are New York Times bestsellers, including his stand-alone debut novel, Term Limits. The Mitch Rapp story begins with American Assassin, which will be released as a major film in September 2017.
Kyle Mills is the #1 New York Times bestselling author of fifteen political thrillers, including The Survivor for Vince Flynn and The Patriot Attack for Robert Ludlum. He initially found inspiration from his father, the former director of Interpol, and still draws on his contacts in the intelligence community to give his books such realism. Avid outdoor athletes, he and his wife have lived in Jackson Hole, Wyoming, for over twenty years. Visit his website at www.KyleMills.com.