I'm excited to introduce our guest host today, Betsy Ramirez, M.Ed., R.D., from Supermarket Nutrition 411.  Betsy is a registered dietitian and my go-to expert for healthy food choices.  Today she's testing a pizza recipe from Deceptively Delicious by Jessica Seinfeld.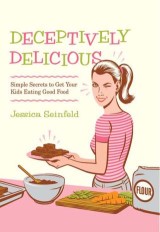 Title: Deceptively Delicious
Author: Jessica Seinfeld
Subtitle: Simple Secrets To Get Your Kids Eating Good Food
Published: 10-01-2007
Publisher: HarperCollins
Source: Personal Copy
Price: $9.99
Deceptively Delicious Pizza
I love cookbooks! In fact, you might say I have a cookbook problem. My shelves are overflowing, so I am so grateful to have Lazy Day Books to keep me organized with their enormous selection of e-cookbooks. What fuels my cookbook hoarding? I am a registered dietitian, so I always look for recipes that focus on wholesome, nutritious food. I am also a mom of 2 preschoolers, one of which is a picky eater. While his palate is expanding, he usually doesn't get enough veggies in his day. This is why I gravitated toward Deceptively Delicious by Jessica Seinfeld.
The theory behind her cookbook is using purees to "nutrition up" her kids' foods. What is a puree? Well, it's blenderized food. In her cookbook, she focuses on 20 different fruits and vegetables to puree and adding them to recipes she feeds her family. All of her recipes I reviewed are very kid friendly. She even makes her own ketchup with carrot puree.
I chose to make her Pita Pizzas (with spinach puree). Why did I choose this recipe? My family loves pizza, and my picky eating son is hard to trick. I also think this is an easy, go to recipe anyone can do and feel good about giving their kids some extra nutrition.
The recipe calls for the following:
8 (4 inch) whole wheat pita pockets
½ cup spinach puree
2 cups bottled tomato sauce
2 cups of thinly sliced part skim mozzarella.
Did I follow this recipe exactly? No, I didn't have pita pockets. I had actual thin pizza crust that I had purchased early in the week. I had frozen spinach because they were out of fresh at the store. My sauce was an all natural premade tomato pizza sauce. Does this change the recipe completely? No. What I am looking for in her recipes is taste of the puree. I don't want my kids to realize my sneaky maneuver.
Let's get to the food, shall we? First, I heated up a cup of frozen spinach in a glass dish in the microwave for about 60 seconds. I would have totally steamed fresh spinach had it been available. I have a mini Cuisinart chopper that I use, so I threw the spinach in there to puree. I quickly realized I needed to add ½ cup or so of water to the spinach to get it to the baby food consistency I was going for. Big chunks of leaf were not an option for my crew. My undercover operation would have been blown. My daughter loves the chopper so I let her help press the buttons. No worries on Operation Spinach Pizza, I didn't tell her it was for her lunch. She is just my little kitchen helper. I made more puree spinach than needed. I saved the rest of the spinach for Seinfeld's brownie recipe I plan to make later.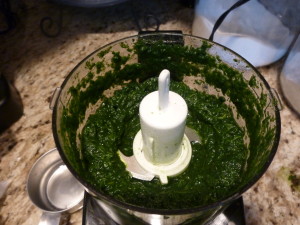 Next, I combined the premade pizza sauce with the spinach puree. I had 1 cup of tomato sauce versus 2 cups, so I just adjusted the ratio to ¼ cup spinach puree for 1 cup of sauce.
This yummy and beta carotene filled sauce went straight on my 8 inch olive oil coated pizza crusts. We then topped it with cheese and added mini pepperonis. You can add any topping you like to these kid pleasing pizzas or just leave them cheese.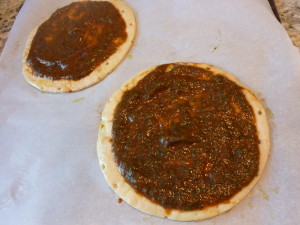 I baked the pizzas per crust package directions. Deceptively Delicious had her pizzas on 400 degrees for 5 to 10 minutes. I use parchment paper instead of the aluminum foil Seinfeld suggests. It's easier to use in my opinion.
After cooling and cutting, I served my deceptive pizza to the kids. What did they think? They loved it! They didn't even know. SUCCESS!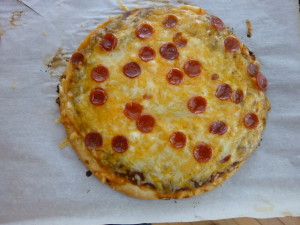 I am definitely going to make her chicken nuggets (with broccoli or spinach or sweet potato or beet), tacos (with sweet potato, carrot, or butternut squash), macaroni and cheese (with butternut squash and cauliflower), chocolate pudding (with avocados), and the brownies (with carrot and spinach).
Overall, I highly recommend this cookbook to parents. It's a great way to incorporate quality nutrition into everyday kid foods. It will prove especially beneficial to parents with picky eaters.
Thanks to Lazy Day Books for allowing me to contribute to their blog! For more nutrition tips and information and what's good for you on grocery store shelves, visit me at http://supermarketnutrition411.wordpress.com.
Happy Eating,
Betsy Ramirez, M.Ed., R.D.
Mom of a picky eater and Wife of a picky eater