This post was originally published by us on EzineArticles before the Lazy Day Books Blog was born.  These stress-free holiday tips are still applicable so we decided to re-post it for you here along with some great cookbook recommendations to help you plan the perfect menu.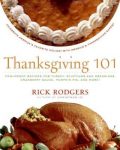 Believe it or not, if you're the host, it's time to plan your Thanksgiving Dinner! I'm a natural procrastinator, so I've learned the hard way that planning ahead really is the best way to keep the holidays stress-free. You'll even be able to spend time with your guests without worrying about the meal. And your guests will appreciate a host who is relaxed and enjoying the day with them.
Go ahead now and confirm who will be coming for dinner and if they are bringing a date. Knowing about how many people you are cooking for, you can still plan a little extra just in case and have plenty of food if you extend a last minute invitation. You might also ask your guests if they have any dietary restrictions so you can be prepared if somebody has an allergy or health condition.
A few years ago, my husband suggested we order the turkey from a restaurant and then focus on the sides and dessert at home. The only thing I had to do to the turkey was warm it up and it didn't take up my oven all day! It worked so well, it is now part of my regular Thanksgiving Day plan. If you are making the turkey yourself, consider asking a guest to bring some sides or order dessert from your favorite bakery. Anything to feel like it's not all on your shoulders!
Two weeks before Thanksgiving, you should finalize your menu. Choose one or two recipes that you love and can make totally from scratch. These are the ones you can brag about to your guests. The rest can have a couple of ingredients that can come from a box or can. Nobody will know and now is not the time to be Superwoman. Double check your pantry for basics like sugar, flour and chicken stock, you'll need more than you think. Chances are there are some spices like Nutmeg and Allspice that you don't use often, so make sure you have enough. If you are a traditionalist, you might be planning a menu that includes turkey, stuffing, candied yams, some variety of green bean casserole, homemade rolls, pumpkin pie, etc. Want more variety? Go ahead and mix it up!
If you bake your own dinner rolls, make them now right up to the point where you place them on the baking sheet, then cover the whole pan with plastic wrap and put them in the freezer. You can pull them out Thanksgiving morning and they will thaw and rise by dinnertime. Short on space? After they are frozen, remove them from the pan, put them in a zip-lock bag and then back in the freezer.
Don't wait for the weekend before Thanksgiving to do your grocery shopping! Do it as soon as your menu is planned so you're not tempted to change your mind. Plus, you can skip the crowds and make sure the store has all of your ingredients in stock. There's nothing more frustrating than going from store to store looking for one major ingredient the day before you're hosting dinner.
Don't forget dessert. If you do your own baking, choose something that you can make at least two days before serving. If baking isn't your thing, now is the time to place your order at your favorite bakery. You will have a hard time ordering desserts from a popular bakery the same week as Thanksgiving, it's one of the busiest weeks of the year!
The Saturday before Thanksgiving, do any house cleaning that needs to be done, including washing the china, silverware and stemware you plan to use for dinner. Go ahead and set the table, put out the candles, vases and any other decorative items you want to use. Review your menu, noting the cooking times and temperatures for all of your dishes and plan your oven space accordingly.
Two days before Thanksgiving, make your desserts. This is often the most time-consuming part of preparing for a big dinner, especially if you are making more than one or two desserts for your guests. By making them ahead, you give yourself a little breathing room.
The day before, prep everything else so there are no surprises on Thanksgiving Day if you forgot an ingredient and the store is closed. If you plan this step properly, you can complete this in less than two hours. First, gather all of your ingredients on the counter, start the cornbread for the stuffing, boil the eggs and wash the vegetables. Next, peel and slice the potatoes. For mashed potatoes, put them in the pan, cover with water and put them in the refrigerator. For candied yams, spray your baking dish with non-stick spray, arrange the slices, add the other ingredients, cover and put in the fridge. Do the same thing for your other side dishes, getting everything completely prepped. The cornbread should now be ready to mix with the other ingredients for the stuffing, cover and put in the refrigerator. Use foil to cover your dishes and write in sharpie on top with the cooking time and temperature.
It's Thanksgiving Day! Your kitchen is clean and the table is set. You're a relaxed, stress-free host! All you have to do now is put your dishes in the oven and then enjoy spending the day with your guests! Happy Thanksgiving!
What stress-free ideas work well for you?  Share them with us in the comments!
Happy Hosting!
Kimberly
Want to learn more about the cookbooks pictured here?  Click the following links for book descriptions, pricing or to instantly download these cookbooks from Beyond Just Books.
Thanksgiving 101 by Rick Rodgers
The New Thanksgiving Table by Diane Morgan
Southern Pies by Nancie McDermott
Holiday Dinners with Bradley Ogden by Bradley Ogden