Thanksgiving weekend is one of the busiest travel times of the year.  And travel time is perfect reading time!  I don't know about you, but I'm never quite sure what kind of book I'll be in the mood for when travelling, I think it has a lot to do with my stress level after getting through security at the airport.  So, I make sure I load up my eReader with a variety of options.
Here are just a few of the books I'm travelling with this weekend.  What kind of books do you like to read when you're away from home?
A good friend of mine has been raving over Daniel Silva's books and he was kind enough to loan me his copies of Books 1 and 2 in the Gabriel Allon Series.  I'm halfway through Book 1, The Kill Artist, and I think I can get it finished during our first flight.  So far, I'm really enjoying it!  There are eleven books in this series; I can't wait to read my way through to the most recent one, Portrait of a Spy.
I'm a huge fan of Iris Johansen's Eve Duncan Series!  A few weeks ago I finished reading Eight Days to Live (Loved it!), so I'm looking forward to starting the next book in the series this weekend, Chasing the Night.  I might save this one for the plane ride home so I have several uninterrupted hours to devote to it.  I swear, every book in this series is better than the one before it…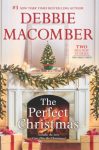 Sometimes I read thrillers back to back, but more often than not, I like to read a romance or heart-warming story in between them.  Read a little murder and mayham or spy games and follow it up with some happily ever afters.  It helps me stay balanced 🙂  So, in between The Kill Artist and Chasing the Night, I have my eye on Debbie Macomber's The Perfect Christmas.
That should be plenty to get me through all the travelling.  Of course, the most important part of this weekend is spending time with family and counting our blessings!
I hope you all have a blessed Thanksgiving holiday, and if you're travelling, be safe and take plenty of books to keep you sane 🙂
Happy Thanksgiving!
Kimberly