As I mentioned last week, one of my personal challenges this year is to read all of Daniel Silva's Gabriel Allon books.  Chris S., one of my good friends, has been raving about this series and I do love thrillers.  Based on everything he had told me, this series seemed like a good fit for me.   Plus, Chris was nice enough to loan me his copies of the books, so I really had no excuse.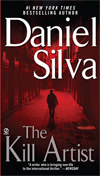 Back of the book description, The Kill Artist:
Once a key operative in secret Israeli-intelligence missions, Gabriel Allon is on the run from his past, assuming a quiet life as a meticulous restorer of priceless works of art. But now he is being called back into the game. The agent with whom he is teamed hides behind her own beautiful mask-as a French fashion model. Their target: a cunning terrorist on one last killing spree, a Palestinian zealot named Tariq who played a dark part in Gabriel's past. What begins as a manhunt turns into a globe-spanning duel fueled by political intrigue and deep personal passions. In a world where secrecy and duplicity are absolute, revenge is a luxury no man can afford-and the greatest masterpiece of all.
So, I set out to read book one, The Kill Artist, and I learned a very important lesson about starting any new series: block out enough time to really pay attention to the first chapters as they contain lots of important information that you'll need later.
I had started the book on the train on my way into the office one morning, which only gave me about 20 minutes of reading time.  I picked it back up that evening, but I hadn't paid close enough attention in the morning and felt lost.  I have a lot of books on my to-be-read list and was tempted to give up and move on to the next book, but I remembered how much Chris loved this series and decided I hadn't really given the book the start it deserved.  So, I blocked out an hour of uninterrupted reading time and started over from the beginning.
An hour into it, I was hooked and couldn't wait to see how the story developed.  Before I knew it, two hours had flown by and I couldn't tear myself away.
Silva does a great job setting up the characters in this first book of the series and he doesn't skimp on the action to do it.  There are plenty of twists and turns to keep your heart racing!
I like how Silva writes the hero, Gabriel Allon, to be more human than super-hero and gave us enough background to understand what makes him tick without spilling all the beans right up front.  There are still plenty of mysteries to unravel as the series progresses.
As the excellent start of a new-to-me series, I gave The Kill Artist 5 Sunshines and I'm looking forward to the next part of the adventure as it unfolds in book two, The English Assassin.
Happy Reading!
Kimberly
Book Review Notes:
Title: The Kill Artist
Author: Daniel Silva
Subject: Fiction, Thrillers
Published: 2000
Publisher: Penguin Group
Source: Borrowed copy from friend