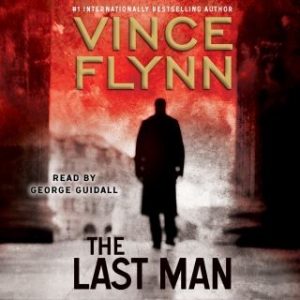 Mitch Rapp is back!
The last two Rapp Series books went back in time to show us how Mitch Rapp became the meanest, toughest, baddest CIA Counter-terrorist Operative ever.  American Assassin set the stage and showed us the whole selection and training process and gave us just the right amounts of insight into his psyche.  The second prequel, Kill Shot, was a great action thriller and showed us more about Rapp's development history.  With The Last Man, we are back to a modern-day setting in Afghanistan, where a CIA agent has gone missing.
Back of the book description:
   An invaluable CIA agent has gone missing, and with him, secrets that in the wrong hands could prove disastrous. The only question is: Can Mitch Rapp find him first?

Joe Rickman, head of CIA clandestine operations in Afghanistan, has been kidnapped and his four bodyguards executed in cold blood. But Mitch Rapp's experience and nose for the truth make him wonder if something even more sinister isn't afoot. Irene Kennedy, director of the CIA, has dispatched him to Afghanistan to find Rickman at all costs.

Rapp, however, isn't the only one looking for Rickman. The FBI is too, and it quickly becomes apparent that they're less concerned with finding Rickman than placing the blame on Rapp.

With CIA operations in crisis, Rapp must be as ruthless and deceitful as his enemies if he has any hope of finding Rickman and completing his mission. But with elements within his own government working against both him and American interests, will Rapp be stopped dead before he can succeed?
The Last Man is everything you ever wanted in a Mitch Rapp thriller – high-octane action (literally), political intrigue, more appearances than usual of the always great Irene Kennedy and proof that even though Rapp is susceptible to being human, he's still far and away better and tougher than any other fictional elite operative.  From the beginning, he's in the face of the bad guys and links details together that nobody else thinks are important. Trusting his instincts, he relentlessly follows the clues to track down the enemy, even when that enemy includes some individuals in his own government.
"The right price," Rapp said, amused by the comment. "I'm going to tell you how this is going to work and that's only if you can prove to me that I should let you live. You're not going to get paid a dime. The only thing you'll get from me is your life, which I would assume if fairly important to you."
The Last Man is Mitch Rapp at his very best.  Vince Flynn's writing is on target, his research is thorough, his characters are defined in way that makes it easy to see in your mind exactly what he's talking about as you read along.
This is one book that will not only delight fans of the series, but also satisfy fans of the thriller genre who have never before read one of Vince Flynn's books (and if you haven't, you need to correct that ASAP).  I am only disappointed that I have to wait a year for the next Mitch Rapp mission.
I gave The Last Man 5 out of 5 Sunshines.
Happy Reading!
Kimberly
Download The Last Man eBook

Title:  THE LAST MAN
Author:  Vince Flynn
Subtitle:  Mitch Rapp Series, Book 13
Subject:  Fiction
Published:  11-13-2012
Publisher:  Atria/Emily Bestler Books
Source:  Advance Review Copy