Today marks the paperback release of The Sea of Tranquility by Katja Millay, a book I reviewed at the beginning of the year.  I included the content of my review below and would love to hear your thoughts on the book as well.  If you haven't taken the time to read this book yet, I encourage you to pick up a copy today!  You'll be glad you did.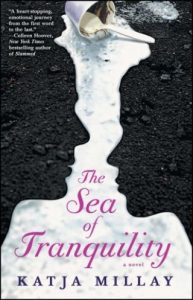 The following review was originally posted here at LDB on February 4, 2013…
You know, everybody makes resolutions in January and by the end of the month, they've given up on at least half their goals.
But who says you have to wait until the next January to try again?  It's a new year, a new month, a new beginning.  Every day is a chance to start over, start new, make a different choice.
"It's about the dream of second chances," he says finally.  He hasn't raised his eyes from the paper on his desk, and I feel him looking at me without looking when he uses his grandfather's words.  "The narrator doesn't respect the beauty of life and the world around her, so it crushes her into the ground, and once she's dead she realizes everything she took for granted and didn't see right in front of her while she was alive.  She's begging for another chance to live again so she can appreciate it this time."
Sometimes, reading a particular book at just the right moment in your life can make it that much more powerful of a read.  At the beginning of January, as I was thinking about being the best version of me this year, I read The Sea of Tranquility by Katja Millay.
At its heart, The Sea of Tranquility is a story not only of survival, but of learning to be whole again and recognizing the opportunities life gives you.  It's about choosing to surround yourself with the right people even when that choice is hard to make. It's about second chances.
The Sea of Tranquility is beautiful a reminder that every person in your life is there for a specific reason and that reason is not always obvious.  Some people are there to be your friend when you need one the most, some are there to help you through the hard times, some to make you laugh.  Some people are there to teach you an important lesson or to learn one with you.  Some are there by choice and others by necessity.  Most never know how they've influenced you.  Some are with you all your life and some leave when their purpose has been served.  But they all have a purpose in your life and each one is important.  And sometimes you get a second chance with somebody important to you.
I believe everyone who reads this book will find something different, something that matters in their life at that particular moment.  I read The Sea of Tranquility at just the right moment for me and found a beautiful story of love, loss, redemption and the extraordinary power of human relationships.
"So many things have shifted since the day I left here.  I just can't figure out exactly how.  I feel like I'm starting over again for what?  The third time in my life?  The fourth?  I can't possibly know.  I only hope that the life I start today will finally be the right one."
Back of the book description:
I live in a world without magic or miracles.  A place where there are no clairvoyants or shapeshifters, no angels or superhuman boys to save you. A place where people die and music disintegrates and things suck. I am pressed so hard against the earth by the weight of reality that some days I wonder how I am still able to lift my feet to walk.
Former piano prodigy Nastya Kashnikov wants two things: to get through high school without anyone learning about her past and to make the boy who took everything from her – her identity, her spirit, her will to live – pay.
Josh Bennett's story is no secret: every person he loves has been taken from his life until, at seventeen years old, there is no one left.  Now all he wants is be left alone and people allow it because when your name is synonymous with death, everyone tends to give you your space.
Everyone except Nastya, the mysterious new girl at school who starts showing up and won't go away until she's insinuated herself into every aspect of his life. But the more he gets to know her, the more of an enigma she becomes. As their relationship intensifies and the unanswered questions begin to pile up, he starts to wonder if he will ever learn the secrets she's been hiding – or if he even wants to.
The Sea of Tranquility is a rich, intense, and brilliantly imagined story about a lonely boy, an emotionally fragile girl, and the miracle of second chances.
Happy Reading!
Kimberly
Purchase at Barnes & Noble, Kobo, iBooks, iTunes Audiobook, Beyond Just Books and many other retailers!
Book Review Notes:
Title: THE SEA OF TRANQUILITY
Author: Katja Millay
Subject: Fiction & Literature, Contemporary Romance
Published: November 2012
Publisher: Atria Books
Source: Review Copy