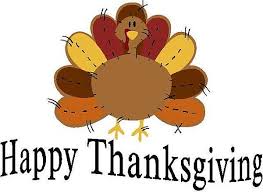 Wishing you all a Happy Thanksgiving!
Are you traveling this week?  If so, which books are you taking with you?
I originally read Matthew Dunn's newest Spycatcher thriller Dark Spies back in the summer, but my reading time was frequently interrupted and a little unproductive.  So, I plan to re-read it on the plane today so I can fully concentrate and enjoy this fourth installment of one of my favorite series.
I've also downloaded a copy of Tony Robbins' Money: Master the Game, which my husband wants us to read together while we work on our 2015 budget.  I've heard good things about it so I'm looking forward to getting new ideas to better secure our financial future.
What about your?  Share your reading plans for the holiday weekend with us in the comments.
Happy Thanksgiving!
Kimberly
As always, you can purchase books discussed on this blog at your favorite neighborhood bookstore or these online booksellers: