Harm's Reach
by Alex Barclay
on Tour February 24th through March 31st, 2015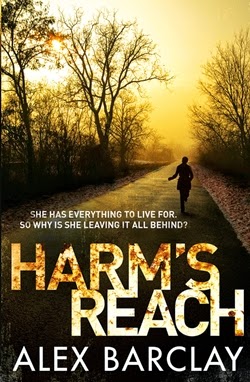 Today I'm participating in the Harm's Reach Blog Tour via Partner's in Crime Virtual Book Tours. Keep reading for a great giveaway and excerpt!
Synopsis:
FBI Agent Ren Bryce finds herself entangled in two seemingly unrelated mysteries. But the past has a way of echoing down the years and finding its way into the present.
When Special Agent Ren Bryce discovers the body of a young woman in an abandoned car, solving the case becomes personal. But the more she uncovers about the victim's last movements, the more questions are raised.
Why was Laura Flynn driving towards a ranch for troubled teens in the middle of Colorado when her employers thought she was hundreds of miles away? And what did she know about a case from fifty years ago, which her death dramatically reopens?
As Ren and cold case investigator Janine Hooks slowly weave the threads together, a picture emerges of a privileged family determined to hide some very dark secrets – whatever the cost.
My Thoughts:
Harm's Reach opens at a fast pace- we meet a dozen characters and pick up some quickly disseminated information about several unrelated crimes, including a bank robbery, a murder and a couple of cold cases.
And right away on page two we find out our lead character, FBI agent Ren Bryce, is bipolar and her boss knows about her diagnosis.  While I understand this is fiction and I regularly suspend disbelief when reading (it's more fun that way!), I had a hard time reconciling the idea of a bipolar FBI agent with any remote possibility of reality.  It just would not happen.  EVER.  Because that's how people die. But I digress.
Throughout the book, we are treated to Ren's thoughts that hint to her manic side.  She says normal sounding words out loud to her co-workers, but then we see her thoughts that she has kept to herself.  It's exhausting to be in her head.  She was hard to relate to, but by the end of the book, I felt for her and wish her good results in therapy.
Initially, I had a hard time getting into the story.  After the first few chapters though, the mystery settles into an easier to follow rhythm and my interest built as the investigation developed.  And those seemingly unrelated crimes?  The author did a lovely job tying most of them into a satisfying ending and she did it without rushing to the finish.
By the end, I was glad I stuck with it and was satisfied with the conclusion.  I am curious now about the first three books in this series and what led to Ren's diagnosis.  Ultimately, Harm's Reach is an enjoyable read, but you do have to pay attention upfront to the details, they will matter later.
Keep reading for the giveaway and an excerpt from Harm's Reach!
As always, you can purchase books featured here at your favorite neighborhood bookstore or these online booksellers:
Happy Reading!
Kimberly
Don't Miss Your Chance to Win A Copy of Harm's Reach!
Read an excerpt:
PROLOGUE
Ingrid Prince realized that the white walls in every Prince family home created a diorama effect. People watched from the outside, studying, deducing, then leaving, even after brief encounters, with lasting judgements. Ingrid Prince, the beautiful, radiant wife! Robert Prince, the handsome, wealthy husband, a man of fine stock!
Oh, what they see . . . and don't see.
Ingrid closed her eyes.
I am safe. I am safe. I am safe.
'Close those beautiful cat eyes, Ingrid, and say it three times. "It" is wherever you want to take us. I am Tahiti. I am Tahiti. I am Tahiti. Then – bam! – eyes open – bam! – I shoot!'
She could hear Sandro Cera's voice in her head as he stalked around her all those years ago. Handsome, talented, orphan, immigrant Sandro Cera, the rags-to-riches-and-back fashion photographer; Ingrid Prince, at his feet, blonde, tanned, extended on the white floor of a freezing studio in Brooklyn, shivering by a faulty space heater.
Camera in hand, Sandro would rise up onto the balls of his feet, crouch down, close in, create distance, his body
twisting and turning as if he was the one to be captured.
Ingrid did as he asked, closed her eyes, used his three-times trick.
No lips moving!' Sandro said. No leeps. 'These are thoughts I'm talking about. Three times, sweets, three times: I am silent, I am silent, I am silent!'
'My teeth are chattering is why my lips are moving!' said brave, bold, new-girl Ingrid, just turned seventeen. 'I'm fucking hypothermic . . . times three.'
Click flash click flash click flash. And the photo that made them both famous was the one that was taken just afterwards, as Ingrid laughed, her head thrown back, then forward, the lens capturing a warm and beautiful smile with no Brooklyn ice, just St Tropez, St Tropez, St Tropez.
It was a different world. It was New York in the Nineties – when they partied below ground and cauterized their hearts' wounds with the fire of quick fucks. Sandro Cera had been dead years – a gradual, then sudden junkie demise. In the live art installation of Ingrid's life, Sandro Cera was the lightbulb in the corner, flickering ominously, bound to blow.
Yet his was the advice she was now hearing.
Three times.
I am safe. I am safe. I am safe.
Ingrid looked around the Colorado rental. Even the temporary homes she sought refuge in were white-walled, sparsely furnished, neutral. When their SoHo loft was shot for an interiors magazine, the stylist pared it back even more, took pieces away. Pieces: furniture, paintings, sculptures, reality. How suddenly the landscape can change when its elements are plucked away.
* * *
Ingrid heard a noise at the front door. Light on her feet, she walked out into the long polished hallway. Her suitcases were at the end by the door: a set of five, olive green, edged in brown leather with accents of gold.
Now, there was banging at the door, hammering. Ingrid froze. The door burst open. She felt a rush of adrenaline.
This is not how it ends. This is not how it ends. This is not how it ends.
She backed into the kitchen, then turned, set to run for the French doors, but she could make out two dark figures standing there. Ingrid was briefly blindsided by her reflection in the glass.
She knew what she looked like to others. She knew what her husband looked like.
A Swedish proverb came to mind: Alla känner apan, men apan känner ingen.
Everyone knows the monkey, but the monkey knows no one.
Author Bio: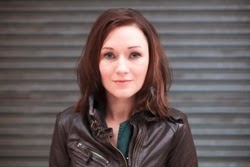 Barclay studied journalism at university and worked for a period in fashion and beauty journalism as a copywriter in the RTÉ Guide. In 2003, she left the fashion industry to write Darkhouse, the first of two novels featuring NYPD detective Joe Lucchesi. Her second novel, The Caller, was released in 2007, and Last Call in 2008. She won the Ireland AM Crime Fiction Award at the Irish Book Awards for her fourth novel, Blood Runs Cold.
Catch Up with the author:

Book Details:
Genre: Mystery, Thriller
Published by: HarperCollins
Publication Date: February 24, 2015
Number of Pages: 416
ISBN: 0007494513 (ISBN13: 9780007494514)
Source: Advance review copy from publisher via Partners in Crime Book Tours in return for an honest review.
<h1>Tour Participants:</h1><!– start LinkyTools script –>
<script src="http://www.linkytools.com/basic_linky_include.aspx?id=252033″ type="text/javascript"></script>
<!– end LinkyTools script –>