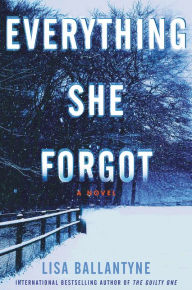 Synopsis:
Some things aren't meant to be remembered . . .
They're calling it the worst pileup in London history. Margaret Holloway is driving home, but her mind is elsewhere—on a troubled student, her daughter's acting class, the next day's meeting—when she's rear-ended and trapped in the wreckage. Just as she begins to panic, a disfigured stranger pulls her from the car seconds before it's engulfed in flames. Then he simply disappears.
Though she escapes with minor injuries, Margaret feels that something's wrong. She's having trouble concentrating. Her emotions are running wild. More than that, flashbacks to the crash are also dredging up lost associations from her childhood, fragments of events that had been wiped from her memory. Whatever happened, she didn't merely forget—she chose to forget. And somehow, Margaret knows deep down that it has something to do with the man who saved her life.
As Margaret uncovers a mystery with chilling implications for her family and her very identity, Everything She Forgot winds through a riveting dual narrative and asks the question: How far would you go to hide the truth—from yourself?
Book Details:
Genre: Suspense
Published by: William Morrow Paperbacks
Publication Date: October 6, 2015
Number of Pages: 432
ISBN: 0062391488 (13: 978-0062391483)
Purchase Links: 




The memories that had been unearthed were dreamlike and defined by fear. She remembered running, out of breath, in a forest of dark trees. She remembered her mother shaking her, to make her speak. She remembered feeling empty and wordless and, beyond that, a potent, unfathomable ache inside her that no one could assuage. She remembered crying in bed once the light had gone out, making sure no one heard her.
My Review:
Lisa Ballantyne weaves a tale of childhood trauma and a family's struggle to reconcile the past with the present. Most of the characters are well-developed, giving the reader an in-depth look into their moral character and motivations. Oddly enough, Margaret Holloway, the main character, was the least developed.  While I understand her lack of depth relates to her childhood memory loss, I would have liked to know more about adult Margaret so I could make a stronger emotional connection with her as she struggles to remember what happened to her as a child.
Billed as Suspense/Thriller, I feel this one is better described as Literature, Family Drama or Contemporary Fiction.  Margaret's childhood is certainly a mystery to her and the author does a beautiful job uncovering her past, but astute readers will have no trouble early in the novel figuring out how this story will end.  It's a satisfying read and definitely worth your time, but I think you'll enjoy it more knowing upfront that it's not an edge of your seat thrill ride.
I'd love to hear your thoughts about Everything She Forgot, please share with me in the comments!
Happy reading!
Kimberly

Tour Participants: