Labor Day weekend is coming up and if you're anything like me, you might be looking for some new recipes to share with your friends over the weekend.
So, to help you out, we're giving away an ebook copy of You Be Sweet: Sharing Your Heart One Down-Home Dessert At A Time by Patsy Caldwell and Amy Lyles Wilson.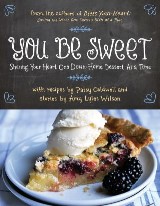 I bet you can't read this mouth-watering sample list of recipes without being tempted into your kitchen to test them out!
Cantaloupe Popsicles
White Chocolate Soup & Brownies
Carrot Cupcakes with Orange Cream Cheese Icing
Old Fashioned Southern Chess Pie
Banana Butterscotch Bread
Fresh Frozen Raspberry Yogurt
Fig Muffins
Marshmallow Ice Cream
French Toast Fingers with Orange Sauce
any so many more you won't know where to start!
The easiest way to enter for your chance to win is by visiting our Facebook fan page and clicking the sweepstakes tab at www.facebook.com/LazyDayBooks.  Don't forget to 'Like' us while you're there!
If you are not on Facebook and would like to enter for a chance to win, please leave a comment at the bottom of this post OR send us an email to read(at)lazydaybooks(dot)com.  When emailing us, make sure you include your name, age (must be 18 or older), city and state where you live.
Since we will use email to notify the winner and to deliver the ebook, all entries must include a valid email address.
The winner will be determined by random drawing this Friday 8/31/2012 at 8p CST.
If you need instant gratification, click here to download You Be Sweet right now.
Happy Baking and Good Luck!
Kimberly
Updated Sat 9/1 915a: Congrats Florence M., winner of an ebook copy of YOU BE SWEET by Patsy Caldwell.  Florence, check your email for instructions on how to claim your prize.  Thank you to all our participants, check back soon for more great giveaways!