Back of the book description:
Master spy Will Cochrane must catch a missing Russian defector as well as one of Europe's deadliest assassins in this action-packed follow-up to Sentinel, written by real life former field officer Matthew Dunn.

Will Cochrane monitors the nighttime streets of Gdansk, Poland—waiting for the appearance of a Russian defector, a man bearing a top secret document, who Will believes is about to step out of the cold and into the hands of Polish authorities. But suddenly everything goes sideways. The target shows up, but so does a team from Russian Foreign Intelligence Service (SVR) hell-bent on keeping the man from walking. Then, in a hail of crossfire, a van speeds into the melee and snatches the defector out from under them all. Everyone wants the man and the codes he carries—but now he's gone and it's up to Will and his CIA/MI6 team to find him before the Russians.

The SRV has sent their own version of Cochrane, a cold-blooded, brilliant operative, to retrieve the document, pitting spycatcher against spycatcher.
SLINGSHOT is Book 3 in Matthew Dunn's SPYCATHER Series and is the best one yet. In SLINGSHOT, Will Cochrane is given his most difficult mission to date, finding a missing piece of paper and stopping a plot so evil it's difficult to comprehend the breadth and depth of the conspiracy. If he can't stop the threat in time, potentially millions of lives are at stake.
Dunn's writing style is very different from many other authors in this genre. Having actually been a MI6 officer, Dunn is able to write scenes that feel authentic, and he tightly controls the pace so that you never feel like the story got away from him or progressed too quickly. He is knowledgeable about the weapons featured throughout the story and even includes a handy weapons glossary in the back of the book for your reference. The fight scenes and shootouts are incredibly brutal, but seem realistic, and will keep you turning the pages long past your allotted reading time. And though our hero, Will Cochrane, was trained never to show any feelings, he has a unique way of righting wrongs, bringing balance to a harsh and shadowy world.
"He thought about Will Cochrane. This was his third mission with the MI6 officer. At first, he hadn't taken to the man. Cochrane had appeared cold, aloof, reckless, and insubordinate, and at times he seemed to have a death wish. Perhaps some of those observations were still partly accurate. But over time, he'd seen glimpses of another man altogether – a man who had moments of utter compassion that counterbalanced his ruthlessness; an individual who displayed unwavering loyalty to those who helped him; a man who put on a metaphorical suit of armor not only to shield him from the horrors he had to deal with, but also to imprison the demons inside him. Not for the first time, he wondered how he'd cope with Will's level of responsibility. Not well, he decided."
In preparation for reading SLINGSHOT, I went back to the beginning of the series and also read SPYCATCHER and SENTINEL. Though each book can stand on its own, I'm glad I read all three books in order. I learned so much more about our hero Will Cochrane and the other recurring characters and really enjoyed how Dunn controlled the release of information about each character, revealing small pieces of information along the way as the details became important to the storyline.
Fifty pages into SPYCATCHER, Book 1 in the series, I called one of my fellow thriller reading friends and told him to go and buy all three books – I had found a new favorite author and was confident he would love this series. He ordered them all and has, in turn, recommended them to his friends as well.
I highly recommend SLINGSHOT, as well as this entire series, to anyone who appreciates a well-written, fast-paced, on the edge of your seat thriller. You're going to love this one!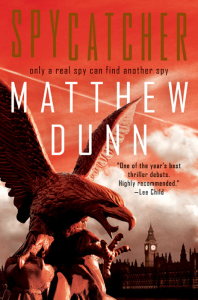 Want to win your very own copies of SPYCATCHER and SLINGSHOT?
The easiest way to enter for your chance to win is by leaving a comment at the bottom of this post OR you can send us an email to read(at)lazydaybooks(dot)com. When emailing us, make sure you include your name, age (must be 18 or older), city and state where you live.
Since we will use email to notify the winner, all entries must include a valid email address. We are giving away physical copies of the books, so the winner will then be asked to provide a valid mailing address.
The winner will be determined by random drawing on Monday, August 5, 2013 at 7p CST. That gives you a full week to enter yourself and tell all your friends, too!
Updated Mon 8/5/2013 930p: Congrats Jeff T., winner of Matthew Dunn's thrillers SPYCATCHER & SLINGSHOT! Thank you to all our participants, check back soon for more great giveaways!
Happy Reading!
Kimberly
Review Notes:
Title: SLINGSHOT
Author: Matthew Dunn
Subject: Fiction
Published: 6/25/2013
Publisher: HarperCollins Publishers
Source: Advance Review Copy from publisher
You can purchase SLINGSHOT at your favorite neighborhood bookstore or any of these online retailers:
Barnes & Noble


Kobo Books

Beyond Just Books
iTunes Audiobooks