Today I'm really happy to be part of the Partners in Crime Book Tour for SECOND WATCH by J. A. Jance!
Keep reading for an excerpt from the book as well as instructions to enter our SECOND WATCH Giveaway!
Back of the book description:
With SECOND WATCH, New York Times bestselling author J. A. Jance delivers another thought-provoking novel of suspense starring Seattle investigator J. P. Beaumont.
SECOND WATCH shows Beaumont taking some time off to get knee replacement surgery, but instead of taking his mind off work, the operation plunges him into one of the most perplexing mysteries he's ever faced.
His past collides with his present in this complex and thrilling story that explores loss and heartbreak, duty and honor, and, most importantly, the staggering cost of war and the debts we owe those who served in the Vietnam War, and those in uniform today.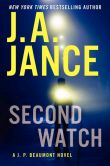 This was my first book in the J. P. Beaumont Series and it was a great first choice.  Though it is the 21st book in the series, Beaumont's dreams about the beginning of his career and past cases gives you good background information to build upon.  Jance does a masterful job bringing the past to life and utilizing modern technology to solve an old crime.  Even though Beaumont is working a cold case, there are plenty of modern twists and turns to keep you obsessively turning the pages.
In addition to re-opening his first homicide case from many years ago, Beaumont also dreams about Lennie Davis, his platoon leader who died in Vietnam, and realizes he never told Davis' finance how he saved his life.  Jance beautifully reminds us that it is never too late to say Thank You to the men and women who serve in our armed forces.
I enjoyed reading
SECOND WATCH
and can't wait to add more J. A. Jance novels to my reading list.  I think you'll like it too!
Want to win your very own copy of SECOND WATCH?
The easiest way to enter for your chance to win is by leaving a comment at the bottom of this post OR you can send us an email to read(at)lazydaybooks(dot)com. When emailing us, make sure you include your name, age (must be 18 or older), city and state where you live.
Since we will use email to notify the winner, all entries must include a valid email address. We are giving away a physical copy of the book, so the winner will then be asked to provide a valid U.S. mailing address.
The winner will be determined by random drawing on Friday, October 11, 2013 at 7p CST. That gives you three full days to enter yourself and tell all your friends, too!
Updated Fri 10/11/2013 845p: Congrats Lance W., winner of SECOND WATCH by J. A. Jance! Thank you to all our participants, check back soon for more great giveaways!
Read an excerpt

:
Happy Reading!
Kimberly
Review Notes:
Title: SECOND WATCH
Author: J. A. Jance
Subject: Fiction/Suspence/Mystery
Published: 9/10/2013
Publisher: William Morrow
Source: Advance Review Copy from publisher
You can purchase SECOND WATCH at your favorite neighborhood bookstore or any of these online retailers:
Barnes & Noble
Kobo Books
iTunes Audiobook