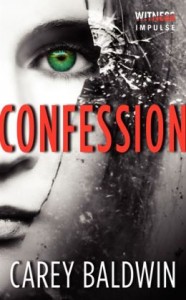 Synopsis:
For fans of Allison Brennan and Karen Rose comes Carey Baldwin, a daring new name in suspense, with the story of a serial killer out for blood—and the only woman who can stop his reign of terror.
They say the Santa Fe Saint comes to save your soul—by taking your life.
Newly minted psychiatrist Faith Clancy gets the shock of her life when her first patient confesses to the grisly Saint murders. By law she's compelled to notify the authorities, but is her patient really The Saint? Or will she contribute to more death by turning the wrong man over to the police? Faith is going to need all her wits and the help of a powerful adversary, Luke Jericho, if she's to unravel the truth. But she doesn't realize she's about to become an unwitting pawn in a serial killer's diabolical game: For once he's finished with Faith, she'll become his next victim.
Review:
There are many things to love about Confession.  The plot is original and twisted enough to make you question if you've really figured out who did it and the pacing is timed just right to keep you turning the pages.  In real life, author Carey Baldwin is a doctor who holds two doctorates, one in medicine and one is psychology and her expert knowledge in these fields is clearly evident throughout the story.  Dr. Faith Clancy, our psychologist heroine, is well developed.  She's a smart woman who isn't afraid to move alone to a new city and set up a new practice, she's independent, thoughtful, cares about her patients and still has enough flaws in her personality to be interesting.
SPOILER ALERT.  STOP READING NOW IF YOU DON'T WANT TO KNOW ANY PLOT DETAILS. There is a developing romance throughout Confession between Dr. Clancy and Luke Jericho, brother of the confessed serial killer Dante Jericho.  I don't think this romance added much to the story and it detracted from the search for the killer.  There is one point in the book where Dr. Clancy & Luke are thisclose to stopping the killer before he claims his next victim.  And they thought that was the perfect time to stop and have an emotional embrace, which sucked all of the building serial killer tension right off the page in the middle of the scene.
If the synopsis had been about a romance that develops during the chase for a serial killer, I probably would have loved almost everything about this book.  But it was described as a psychological thriller so I didn't get what I expected because there were too many other things going on that diminished the building suspense.
I think Confession is a book that will inspire a variety of opinions and I'd love to hear yours.  Pick up a copy at your favorite neighborhood bookstore, head back here after you read it and share your thoughts.  I bet we all take away something different, which is one of the wonderful things about reading!  You can also purchase online from Beyond Just Books, Barnes & Noble or Kobo Books.
Giveaway:
We're giving away a free copy of the book to one lucky reader. To enter to win, simply comment on this blog post with your name and tell me the best book you've read in the last year. We'll randomly select one winner on Monday, April 14, 2014 at 8pm CST. If you are chosen as the winner, you will then be asked to provide your USA mailing address so we know where to send your copy of the book.
Catch Up With the Author:
Happy Reading!
Kimberly
Review Notes:
Title: Confession
Author: Carey Baldwin
Genre: Psychological Thriller, Suspense
Published: 3/11/2014
Publisher: Witness Impulse
Source: Advance review copy from publisher
Tour Participants: