Mysteries and thrillers are two of my favorite genres when it comes to reading for enjoyment, so I'm thrilled today to welcome John Raab, CEO and Publisher of Suspense Magazine, as our guest.  Keep reading to the end for a fabulous giveaway for three lucky winners!
Suspense Magazine is an all digital magazine that was founded in 2007.  We publish short stories, interviews, exclusive excerpts, articles and more. We have also in the past published alternate endings to very popular books, IE: Sara Paretsky's book Critical Mass.
"Suspense Magazine is chock full of stunning artwork, intriguing fiction, and interviews It's a winner!" –Tess Gerritsen, International Bestselling Author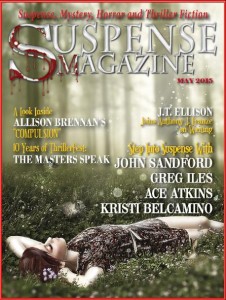 Guest post from John:
I keep hearing something really quite disturbing. For some reason, even in today's ever-changing technology age, people still consider e-book-only authors to be less than "true" authors.
For example: If you watched the Super Bowl this year, you know the name Tom Brady is the starting QB of the New England Patriots. But who is the backup? Just because Tom is the starter doesn't mean his backup —Jimmy Garoppolo, by the way— isn't an NFL player. What about all the bands that now have their own record label and place their music only on iTunes or Amazon for digital download? Just because they don't have a CD in the stores, they aren't musicians?
The same goes for authors that choose to publish in e-book form only. They don't need to have a print book on the shelves of Barnes & Noble to be considered an author. Now, if you are Lee Child or Stephen King, your books would be available everywhere, but a J.A. Konrath who only publishes e-books is an author also and part of the same group as authors that are more well known.
The ITW —International Thriller Writers association— is a perfect example of placing all authors in the same class. There is no better organization for writers on the planet that make the smaller debut author feel part of the group that includes Lee Child, David Morrell, David Balducci, Brad Meltzer, and many more New York Times bestselling authors. The ITW realizes that all authors that have their work published, not only by one of the big publishers but the smaller ones also, are simply authors. People who think authors are legitimate only if their books are printed and sold in bookstores, should take a step back and think about why they are discriminating against e-book-only authors.
Yes, Tom Brady is a lot more successful than his backup, and Van Halen is a lot better known than 8Lb Pressure, but they are all part of the same group in their respective fields. So it's time to take the blinders off and go search out some wonderful e-book-only authors who are busting their butts just as hard as the bestsellers. You could be missing out on the next great story, or find an author that in five years is on the NY Times bestseller list.
John Raab
CEO / Publisher
Suspense Magazine
www.suspensemagazine.com
26500 Agoura Rd.
#102-474
Calabasas, CA 91302
Check out Suspense Radio: www.blogtalkradio.com/suspensemagazine
More about John:
John Raab founded Suspense Magazine in 2007. Also the host of three radio shows on Suspense Radio Network (Inside Edition, One on One and Beyond The Cover) also the producer for two more shows, Crime and Science Radio and The Story Blender.
The CEO / Publisher of Suspense Publishing a book publisher that publishes #1 NY Times Bestselling Author Paul Kemprecos, along with several other authors.
Connect: 


Giveaway
This is a giveaway hosted by Partners In Crime Virtual Book Tours for John Raab & Suspense Magazine. There will be 1 eBook winner of Cornerstone by JM Leduc, 1 eBook winner of The Lone Wolf by Joseph Badal, and 1 winner of the next e-release of Suspense Magazine. The giveaway begins on June 1st, 2015 and runs through July 3rd, 2015.
Thank you Partners in Crime Book Tours for another great tour!

Tour Participants: