Janet is back with us today with a review for Jeff Klima's L.A. Rotten. You can learn more about Janet on our About Us page. Keep reading for a fabulous giveaway at the end!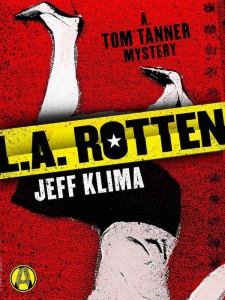 Book Details:
Genre: Mystery and Crime
Published by: Random House
Publication Date: May 12, 2015
Number of Pages: 268
ISBN: 9781101882733
Purchase Links:






Synopsis:
As an expert crime-scene cleaner, Tom Tanner charges big money to carve out bullets, mop up fluids, disinfect walls, and dispose of whatever's left of whomever was unlucky enough to require his services. For a handsome young ex-con determined to stay out of trouble, it's practically a dream job—until he discovers a grisly pattern to his work: a string of gruesome murders at a cheap motel chain, always in Room 236.
While prying into a serial killer's nasty scheme, Tom finds himself with a sharp-witted strip-bar waitress plastered to his side—and his conscience. Even more surprising, the killer starts prying into his life, luring Tom into a twisted friendship. As Tom struggles against his adversary's wicked whims, risking the lives of the few people he holds dear, bodies pile up everywhere he turns. With a psychopath calling the shots, Tom has little choice but to clean house once and for all.
Review:
I have always been a big fan of crime mysteries. I suppose for me, it satisfies that deep need for order and fairness in the world, along with a morbid curiosity for crime scenes and the incredibly detached mind that marks a psychopath. By nature, I am a peaceful person, so virtually delving into the horrific — but not scary — world of crime scenes is a bit of a trip for me. I'm a big fan of Dexter, a guy who harnesses his psychopathic serial killer curse to rid the world of other serial killers, but only the ones who target innocent people.
Generally, these books are from the point of view of someone in the law enforcement or city official position: detective, forensic pathologists, medical examiners… but no one thinks about what happens after all those people have their way with the body, and the body has left the scene of the crime. Who cleans up all that blood and gore so that life can continue in that spot? Who makes those hotel rooms, offices, homes ready to receive people as if someone's intimate visceral parts weren't just dripping off the wall and soaking into the carpets?
Trauma-Gone, that's who, or more specifically, our protagonist Tom Tanner. Tom's the guy with the big black garbage bags and mops, the bleach and the Simple Green, who rights the world again. Tom's cleaning up crime scenes when he notices a pattern the police and forensic technicians have somehow missed. Having a bit of a personal past with law enforcement, Tom's reluctant to do anything about it. Enter Ivy, a stripper-cum-bartender who worms her way into his life and sets in motion a need to resolve the pattern. Neither of our main characters is what anyone would call a model citizen, yet they stumble through a series of challenges that arise to solve the mystery with the morals with we can all identify.
At first, I found it difficult to identify with Tom. I usually enjoy first-person novels most, because I feel a more personal connection with the main character. But Tom is so different from me that I had to work at trying to understand him. His sordid past unfolds slowly, as we get to know him, in a way that makes him look very unlikeable. Although his character is well developed from a cerebral sense, I'd like to have seen more emotion from Tom. His character was developed through dialogue and backstory, but emotionally he seemed a bit of a blank. Ivy, by contrast, expressed herself well, and her emotions were evident in her choice of words. By the end, I liked them both very much and to my surprise, looked forward to their next novel, as the subhead "A Tom Tanner Mystery" implies will follow.
I am also a bit of a stickler for accurate facts and details. They actually distract me from the spirit of the novel and make it difficult to let the world fall away as I read. Though there were a few itty bitty details that seemed off, overall I found this so true to how I imagine their world, that in parts I was even a bit uncomfortable with the knowledge. To me, this is the mark of a great researcher, and I was impressed by the end with the attention to detail.
Tom and Ivy are people I want to get to know better. This mystery was satisfying, the details wrapped up but enough questions left to leave a multi-novel story arc for the couple. I hope to see Klima's next novel soon. I recommend this read for anyone who likes Dexter, Bones, and other crime dramas.
-Janet
Giveaway
I'd like to say a special Thank You to TLC Book Tours for inviting Lazy Day Books to participate in the L.A. Rotten Tour! – Kimberly