Love mysteries and thrillers? Keep reading to the end for a chance to win your own copy of The Missing and the Dead by Stuart MacBride.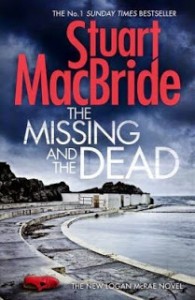 Synopsis:
One mistake can cost you everything…
When you catch a twisted killer there should be a reward, right? What Acting Detective Inspector Logan McRae gets instead is a 'development opportunity' out in the depths of rural Aberdeenshire. Welcome to divisional policing – catching drug dealers, shoplifters, vandals and the odd escaped farm animal.
Then a little girl's body washes up just outside the sleepy town of Banff, kicking off a massive manhunt. The Major Investigation Team is up from Aberdeen, wanting answers, and they don't care who they trample over to get them.
Logan's got enough on his plate keeping B Division together, but DCI Steel wants him back on her team. As his old colleagues stomp around the countryside, burning bridges, Logan gets dragged deeper and deeper into the investigation.
One thing's clear: there are dangerous predators lurking in the wilds of Aberdeenshire, and not everyone's going to get out of this alive…
Review:
This was my first book in the Logan McRae series, but author Stuart MacBride captured my attention from page one with a heart-pounding chase scene.
Faster. Sharp leaves whip past her ears, skeletal bushes and shrubs snatch at her ankles as she lurches into the next garden, breath trailing in her wake. Bare feet burning through the crisp, frozen grass.

He's getting louder, shouting and crashing and swearing through hedges in the gloom behind her. Getting closer.

Oh God…

She scrambles over a tall wooden fence, dislodging a flurry of frost. There's a sharp ripping sound and the hem of her summer dress leaves a chunk of itself behind. The sandpit rushes up to meet her, knocking the breath from her lungs.

Please…
Not like this…
Not flat on her back in a stranger's garden.
And the action didn't stop there!  Logan has just caught a demented killer and is given a "development opportunity" that sends him to a small community overseeing his own small division. He's back in uniform and patrolling the streets everyday chasing down druggies, pedophiles and missing persons as well as the odd herd of cows who've escaped their fences. We are treated to what it must really be like on the streets, including all the airwave radio calls that officers must hear all day long ranging from high excitement to deadly dull.
MacBride doesn't give up much background information, preferring instead to let the characters develop over time and using their dialogue to show you how they are all connected to each other. Having never read this series before, it took me a few chapters to make the connections, but once I caught up and embraced the chaos of daily policing, it was a fast read.  I was a little put off by Logan's former boss DCI Steel – she's rude, crude and completely unaware of social niceties. However, there is a point where Logan acknowledges this and gives us more insight into her character showing her good detective work and unwavering loyalty. After that, she was a lot more tolerable and even grew on me a little by the end.
There are multiple ongoing investigations throughout the book, which seem random and distracting, but MacBride does a beautiful job tying it all together in unexpected ways. Logan McRae is the kind of police officer you want in your community, he cares about people and doesn't give up until he gets the bad guys- one way or the other.
The ending was satisfying while also keeping you on the hook for the next installment in the series. While The Missing and the Dead can easily stand on its own, I know I would have benefited from reading the earlier books in the series. I have added them to my to-be-read list and can't wait to get the full Logan McRae story from the beginning.
Longtime fans of MacBride will be thrilled with this book and new readers to his work will be happy to have found a new favorite author to add to their summer reading list!
Keep reading below for a chance to win your own copy of The Missing and the Dead!
Happy Reading!
Kimberly
Book Details:
Genre: Mystery, Thriller
Published by: HarperCollins
Publication Date: June 2, 2015
Number of Pages: 592
ISBN: 0007494602 (ISBN13: 9780007494606)
Source: Advance review copy from publisher
Purchase Links:






Author Bio: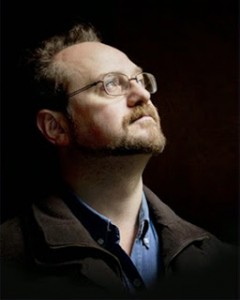 I was born in Dumbarton — no one knows why, not even my mother — and moved up to Aberdeen at the tender age of two, dragging my mother, father, and a pair of wee brothers with me. There followed a less than stellar academic career, starting out in Marchburn Primary School, where my evil parents forced me to join the cub scouts (specialising in tying unnecessary knots in things and wearing shorts). Thence to Middlefield Academy for some combat recorder practice.
Having outstayed our welcome in Heathryfold we stopped thencing and tried going hence instead. To Westhill. To a housing development built over the remains of a pig farm. Sounds a bit suspect, but that's what the official story was when all the householders found teeth and bones coming to the surface of their neatly tended vegetable plots. Pig farm. Right… Eventually I escaped from Westhill Academy with a CSE in woodwork, a deep suspicion of authority, and itchy shins.
Here followed an aborted attempt to study architecture at Herriot Watt in Edinburgh, which proved to be every bit as exciting and interesting as watching a badger decompose. If you've never tried it, I can wholly recommend giving it a go (watching mouldy badgers falling to bits, not architecture). So I gave up the life academic and went a-working offshore instead. That involved a lot of swearing as I recall. Swearing and drinking endless cups of tea. And I think I had Alpen every morning for about a year and a half. Can't look at a bowl of the stuff now without getting the dry boak, sod how regular it keeps you. After my stint offshore I had a bash at being a graphic designer, a professional actor, an undertaker, a marketing company's studio manager, a web designer, programmer, technical lead… Then last, but by all means least, finally circling the career drain by becoming a project manager for a huge IT conglomerate.
Shudder.
Anyway, while I was doing all that IT stuff, I wrote a wee book about an Aberdonian detective sergeant and his dysfunctional colleagues: Cold Granite. HarperCollins bought it, and overnight I went from a grumpy project manager caterpillar to a writing butterfly. As long as you can picture a six-foot-tall, pasty-white, bearded butterfly with no wings, that spends all its time hanging about the house in its jammies.
Stuart has recently been crowned WORLD STOVIES CHAMPION at the 2014 Huntly Hairst.
Catch up with the author:



Giveaway
This is a giveaway hosted by Partners In Crime Virtual Book Tours for Stuart MacBride & Harper Collins. There will be one winner of 1 physical copy of The Missing and the Dead by Stuart MacBride to a US recipient. The giveaway begins on June 1st, 2015 and runs through July 3rd, 2015
a Rafflecopter giveaway
Thank you Partners in Crime Virtual Book Tours for another great book tour!

Tour Participants: