Kissing Persuasive Lips
On Tour July 14, 2015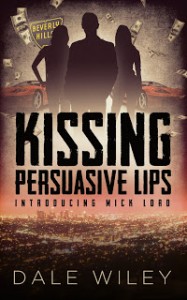 Book Details:
Genre: Thriller
Published by: Smashwords
Publication Date: July 2015
Number of Pages: 90
ISBN: 9781310490507
Purchase Links:


https://www.smashwords.com/books/view/544843​


https://www.goodreads.com/book/show/25645957-kissing-persuasive-lips

Synopsis:
Mick Lord had the world by the tail until his beautiful wife died. He was young, rich and handsome, a star in Hollywood and in the banking world. But when his wife was killed by a five-time loser driving drunk, everything changed. Mick is trying everything to tempt death, but nothing's working. He's even on an uncanny gambling streak that is just making him richer.
When Mick is attacked by a man claiming that Mick "stole" his home, Mick discovers that the company he sold his banks to has been forging his name in order to kick people out of their houses. Beautiful Kinley Baron wants him to keep quiet, but that's against everything Mick stands for. And when a rich old man maims a young woman right in front of him, Mick decides to use his fortune and his desire for death to settle some scores.
Giveaway
This is a giveaway hosted by Partners In Crime Virtual Book Tours for Dale Wiley. There will be 3 U.S. winners of a kindle ebook copy of Kissing Persuasive Lips by Dale Wiley. The giveaway is open to US residents only. The giveaway begins on July 5th, 2015 and runs through July 31st, 2015.
a Rafflecopter giveaway
Read an Excerpt:
The Wynn Casino in Las Vegas is not flashy; at least not in comparison to the spastic neon and LED displays you find everywhere else along the strip. Its elegance and earthy style seem almost out of place. It may have vibrant red carpet running throughout the casino floor, but the shock of that regal red is covered by the acres of indoor trees (real, of course), baffling the noise and calming the senses.
At times, compared to the rest of the city, it feels like an oasis of calm and gentility.
A Tuesday afternoon in Vegas is like a Friday midnight anywhere else, but it was not usually the time for a high-stakes game like this one. But Michael Andrews Lord, known to the rest of the world as Mick, had prevailed upon the powers that be to open a blackjack table just for him, and had gotten them to agree to set the table minimum at $50,000 and the limit at one million dollars per hand. He had never played that much in one hand, but the opportunity was there.
Mick didn't look like your typical high-roller. His wardrobe was strictly well-heeled beach bum. That day he wore a blue linen shirt, which brought out his eyes, a nice pair of Silver jeans and loafers without socks. That would come close to describing him on most days since he sold his banks and converted to his new life.
Most people would call Mick handsome, although he knew having money didn't hurt. He was six-two and a little on the skinny side, with light brown hair a little bit wavy and cut fairly short. He had a short beard he had grown six months earlier and become kind of fond of. Tabloids gushed and wondered who his next woman was. Mick was revolted by this, considering how recently his life had so dreadfully changed, but he knew that playing an absolute fortune in a blackjack game in this open fashion wasn't going to calm any rumor mill. Sometimes his wants and his actions didn't match up.
Although they couldn't say as much out loud, The Wynn was not in the habit of losing as much money as they had lost to Mick over the past six months. His streak was almost uncanny; he might lose the smaller hands, but when he bet big, hundreds of thousands of dollars, his winning percentage was way above normal, and at the amounts he was playing, the casino was in no means ready to shut down, but the winning was taking its toll on all those in charge of keeping losses in line with industry guidelines. Frankly, the winning was raising eyebrows up and down the strip; it was unusual if not unheard of for someone to have his sustained winning streak at such large amounts.
And that Tuesday, with every blackjack player within ear shot standing a respectful distance back, but watching intently, Mick was winning again. He had to be up close to half a million.
He rubbed his eyes and yawned. "I'm about done," he said to the dealer and to the floor boss who had joined him. Mick knew they were probably worried about their jobs, although he would go to whomever he needed to and make sure they knew it was not their fault.
Mick looked around. There were the Vegas old-timers, clutching oxygen tanks and players cards, working girls scanning the crowd for possible play, two French men who looked like they had walked off the set of Miami Vice and numerous tourists, wearing knee-length shorts and fluorescent t-shirts. A shoeshine man named Frank, whom Mick knew and often took care of, was off to the side, clearly rooting Mick on. Some of these he knew and liked, most of them just liked the action. Mick was giving it to them.
"Here we go," he said in the middle of a yawn. "Let's play for some real fun and then let's be done with it." His mouth smiled and his eyes didn't.
He pushed all the chips in front of him to the middle of the table.
The dealer looked at the pit boss. He had dealt some big hands, but this was by far the highest stakes he had ever dealt. The floor boss said something into the microphone in his cuff, then nodded. The dealer indicated that there was $512,000 in play.
"Hand me twelve of that. Let's make it simple math."
The dealer pulled off chips totaling $12,000. As the cocktail waitress who had brought him his gin and tonics all afternoon approached again, Mick took that money and handed it to her.
"Something for you and Charlie," he said, referring to her three-year-old son. Mick asked about and remembered almost everybody. The smile reached his eyes this time.
Her eyes doubled in size. He had already tipped her very well, a hundred dollar bill every time she brought him a drink. "I can't …" she started, but his look stopped her.
"Mike, tell her it's okay," Mick said to the floor boss. Mike nodded and she took a deep breath and looked at the money that was now hers. She wanted to say something, to cry, to leap in the air, but she felt the tension of the moment too. She didn't want to leave, but she still had a job to do, and Mick had turned back to the table.
"Five hundred thousand it is."
The dealer gave Mick a nine and placed his own card face down. He next dealt Mick a seven, giving him the worst possible blackjack hand, a sixteen. He turned over a ten. Mick exhaled loudly.
"Great hand," Mick rolled his eyes. He wanted to stay on the hand, but even with his agenda, he knew that he would stick to his system. Anything else, any random play, would be highly suspicious. He tapped the table. "Hit me, Carlos."
Carlos gave him another card, almost wincing as he did. It was a deuce. The crowd sighed. He had an eighteen. Not a great hand, but still in it. Mick waved off any other cards. It was Carlos' turn.
Carlos took his ten and used it to turn over his next card. Everyone watching strained to see what was underneath. They gasped as they saw a five. The game was still alive. This was good for Mick.
The crowd wanted Mick to win. To a man. He may have had the life that almost all of them envied greatly, and for some that envy could at times be malignant, but you never root for the house in Vegas. Even if you work for them. And the people who actually knew Mick found him to be even-tempered and kind to them, even in the midst of what had to be a hellish year in which his wife had been killed and his life had been turned into a spectacle with all that had entailed. They all knew he had turned to gambling, and they all knew he was winning there and was parading a bevy of starlets through his bedroom, coping with his grief in a public, uneven manner, doing things that even he admitted he didn't like.
Several men called out, "face!" More than half the deck was his friend now. Carlos nodded and pulled out another card. An ace.
Everyone groaned. Carlos looked like he had killed an old woman. Was this going to be one of those hands where the little cards mounted up and won the day for the house yet again?
He turned over the next card. There it was: Jack of hearts. The room erupted. Mick had just won half a million dollars!
Mick didn't crack a smile. He looked unsteady. He turned to the floor boss. "One more hand? Winner take all?"
The guests couldn't believe their ears. A true million dollar hand?
Mike spoke into his collar. Even though it was marked as a million dollar table, he wanted to check with his superiors. This was obviously a big deal to everyone involved. He nodded. They would play for the million.
Carlos took another deep breath and fetched a card from the shoe. He gave Mick an ace and then dealt his hole card. He dealt Mick another ace. Everyone gasped. His second card lay face up, a six. Advantage: Mick.
Mick looked at Mike. More cuff talking. There was no need to ask what Mick wanted. He wanted to split, which was the only thing to do in his situation. Problem was, he obviously didn't have an extra million dollars on him. Both people knew this was just a formality, that Wynn would gladly spot him the money in hopes of finally winning some back. Mike nodded. He was good for it.
Carlos pulled the next card from the shoe. An ace of clubs. The crowd erupted. He would get to split again. Holy cow! Mike spoke into his sleeve. The answer was clear, but everyone had to wait. Finally, he nodded. The casino would lend him two million dollars.
Carlos arranged the aces a similar distance from each other, and the crowd moved in a few inches more. Some of the tourists had video cameras on. They could sell this video if they could get a good shot. Mick Lord was always newsworthy.
Carlos lay down a ten of clubs on Mick's first hand. Twenty-one. The crowd screamed. A king of spades was next. Twenty-one. Finally, the dealer gave Mick a six on his third hand. Soft seventeen. Mick pondered his next move. He always played the cards the same way, although he didn't want to. He hit it anyway, Ten of hearts. Hard seventeen. Mick waved the dealer off.
Carlos had one hand. He could tie Mick on two hands, beat him on one. Carlos flipped up his hole card. He showed a five.
This drew a gasp from the crowd. Now a ten, the highest probability in the deck, would set Mick back a million bucks. Mick had never heard such a quiet crowd in Vegas. Couldn't remember a single time.
Carlos thumbed the next card, slid it across in front of him and turned it over. It was a four. He now had fifteen. Once again, the odds had shifted in Mick's favor. Carlos drew his next card. It was a seven.
Twenty-two.
The Wynn erupted like you'd expect in a World Cup match. They jumped and cheered and hugged in a show of solidarity rare anywhere, especially rare in Las Vegas.
All except Mick.
He had desperately wanted to lose.
Author Bio: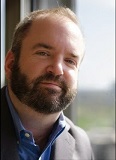 Dale Wiley is a Missouri attorney who has had a character named after him on CSI, owned a record label, been interviewed by Bob Edwards on NPR's Morning Edition and made motorcycles for Merle Haggard and John Paul DeJoria. He has three awesome kids and spends his days working as a lawyer fighting the big banks.
Connect with Dale Wiley:
Thank you Partners in Crime Tours for letting me join another great book tour!

Tour Participants: